Does lighting with LED mean the end of HPS? Manuel Oomen of Agrolux says not: "No, certainly not, at least not in a global context, but for the European Union, Brussels has set the HPS end date at 2027. What we are seeing is that some customers are gradually switching to LED and initially opting for a hybrid solution: a combination of HPS and LED."
In some non-EU markets, such as Canada, the US and Norway, there is no phase-out of HPS for the time being. "So the demand for HPS will remain for a while, and as long as this is the case, we will continue to serve our customers. At the same time, we notice that many growers want to make the switch to LED because they want to become more sustainable, but don't necessarily need a lot of light for their crops. It's also not about maximum, but optimal light per crop, because the light you don't need doesn't contribute to sustainability."
Agrolux was able to translate this demand directly into an entry-level LED model. The model has been added to the LED portfolio: WEGA Eco Lite (LT). "With an output of 1950µ and 540 watts, the first, affordable step towards a sustainable LED solution," says Manuel. "With our WEGA LED product portfolio, we can offer our customers tailor-made service. During Fruit Logistica in Berlin, we will launch our latest innovations, all aimed at even more energy savings for the grower. A visit to our stand, therefore, is definitely worthwhile!"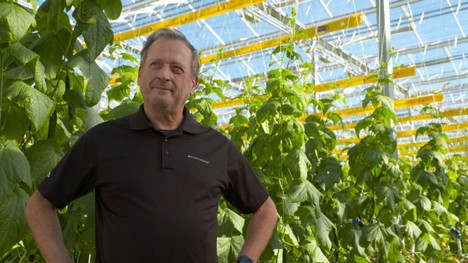 How has the WEGA portfolio been received?
Agrolux is proud of a list of customers. "Partners," Manuel calls them. He has been at the helm as director of marketing & business development at US-based Hawthorne Gardening Company based in Rozenburg since March 2021. He and his team are responsible for developing and marketing the Agrolux WEGA family of products
"We look back on the successful introduction of the WEGA family in 2022. The WEGA, consisting of the Wega Eco, Wega Plus, and Wega Max, has been well-received worldwide. The result? "We have achieved a large market share in Canada and North America; Agrolux is now the market leader there. Many hectares of cucumbers, tomatoes and strawberries are lit by our fixtures there."
Incidentally, also in Europe, partly due to current energy prices, growers are seeing a switch from HPS to LED lighting at this very moment, thus fulfilling the energy transition earlier than planned. "We have among our customers in Europe large rose growers who save more than 40% with our LED luminaires. We often hear: "Your lamps give more light than you promise". And that's true. We are quite proud of that. Because yes, more light simply means more output. What's more, we are also the most energy-efficient in the market, as shown by the independent 'qualified product list for horticulture lights' by DLC (Design Light Consortium). So we not only help the grower get more light, but also the lowest possible energy costs."
Cooperation is key
Agrolux wants to cooperate in the broadest sense of the word. They see their customers not as customers, but as partners, says Manuel. Because he can be crystal clear about one thing: "We learn from them every day. LED lighting in greenhouse horticulture is a sustainable but new development, so one of the ways we gain knowledge about lighting is by maintaining short lines of communication with our customers. Picking up feedback, translating it, and refining it for innovations. We work closely with our R&D and other departments of our parent company Scotts Miracle Gro in the US in this respect."
In addition, Agrolux invests in trials where their LED lighting systems and WEGA LED luminaires are tested in different crops at research agencies and at their customers' premises. Manuel: "We want to be sure that our WEGA LED products and dimming systems do what we promise. The grower must have certainty. After all, switching to LED requires a substantial investment, and customers don't make the decision overnight, which is understandable."
The company's sales offices are located in the Westland and Canada. "That makes us short on time, in short, fast and decisive and able to offer the grower a good service."